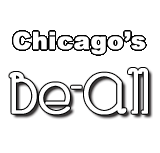 Chicago Transgender Convention
Be-All 2012

Chicago is our kind of town!



Be-All
Coffee Shop


This is a great way to start off your day.
Our Coffee Shop is located right next to the registration room in the hotel's atrium.
This is open from Wednesday to Saturday to all Be-All
registered guests from 7:00 AM to 11:00 AM.

We'll be serving up fresh brewed coffee and specialty teas, along with bakery fresh biscuits, donuts, bagels etc…
All good stuff to make your AM's just a little more comforting.

Provided By Be-All Conference



* * * *

Hospitality Suite


Talking 'bout Hospitality

Join us for a taste of the Be-All's famous Hospitality Suite located on the 7th floor of the Double Tree Hotel. Get off the elevator and you're in…

You must have your badge so we know you are a registered guest of the conference.
This is a true hospitality suite with great views, lounge chairs for conversations, music, and of course, a great bar. Check the times of operation on the 'daily board' at registration.

You'll enjoy fine wines, top shelf liquors, beer and soft drinks.
We also serve both hot and cold appetizers daily.

This service is complimentary to all registered Be-All guests.
We only ask that you don't forget our professional bar-staff who work very hard for tips alone to make your time the best. This is something like no other conference offers and our hope is we see you daily.

As the commercials state, Drink Responsibly…Please!



* * * *

Wednesday Pool Party and Buffet


Come and be part of the exciting Pool party at Be-All 2012

We will provide a wonderful Hawaiian buffet, a great Hawaiian dance ensemble for entertainment, followed by none other than DJ, 'Tarzana Shannon' who will provide plenty of dance music and some of her famous Karaoke.

Be there or be square!!!

This is part of your Lake Shore Drive Package
(You must be registered under Package A )




Thursday
Evening



Allison Wonder Band is a 7-piece female fronted Pop/Rock band, playing
songs from the 70's through today's most current hits. The band's variety
of vocals and instrumentation allow them to perform songs that
most other cover bands just couldn't pull off, so they won't bore you with the
same old over-played bar tunes you get from other bands.



Friday Night



Cocktails, did I hear cocktails?

Tonight you will be entertained by Eileen Birch, who sings like nobody's business. She will perform some of the classics and some newer songs as well. She is an absolute delight.

Following her performance, we're going to give you some fine Chicago Blues by Dave Weld and the Imperial Flames. They are from the heart of Chicago. This will be great danceable or listening music that'll get into your soul. Don't miss either one of theses fine entertainers.


Dance and dance and dance.



Saturday Night
Grand Banquet



You are dressed to the nines, looking your absolute best…
Look, here comes a white limo…could that be for me?

You bet it is…

Yes, you'll be whisked away by limo to this magical space that is the best banquet facility we've ever seen, the Esplanade Lakes Ballroom.

Once there, you'll step on to a red carpet, pose for that photo and join the reception in the Esplanade Lakes Foyer where there will be cash bars, a piano playing softly in the background and trays of healthy appetizers. You'll then be escorted in the Ballroom, a space that could take your breath away. This is a glass circular room on Lake Esplanade overlooking the Botanicals Gardens.

Dinner tonight is soup, salad, a combination of a Petite Filet and Atlantic Salmon, along with potatoes, asparagus, and a wonderful dessert.

Afterwards, you'll dance to 'The Wild Ones' which will wear your feet out!
This promises to be one of the most special memories of the entire week.

Dress… formal or something great
Please join us in this remarkable setting.